Back To School Home Organization Ideas and Tips : Set your home up for success!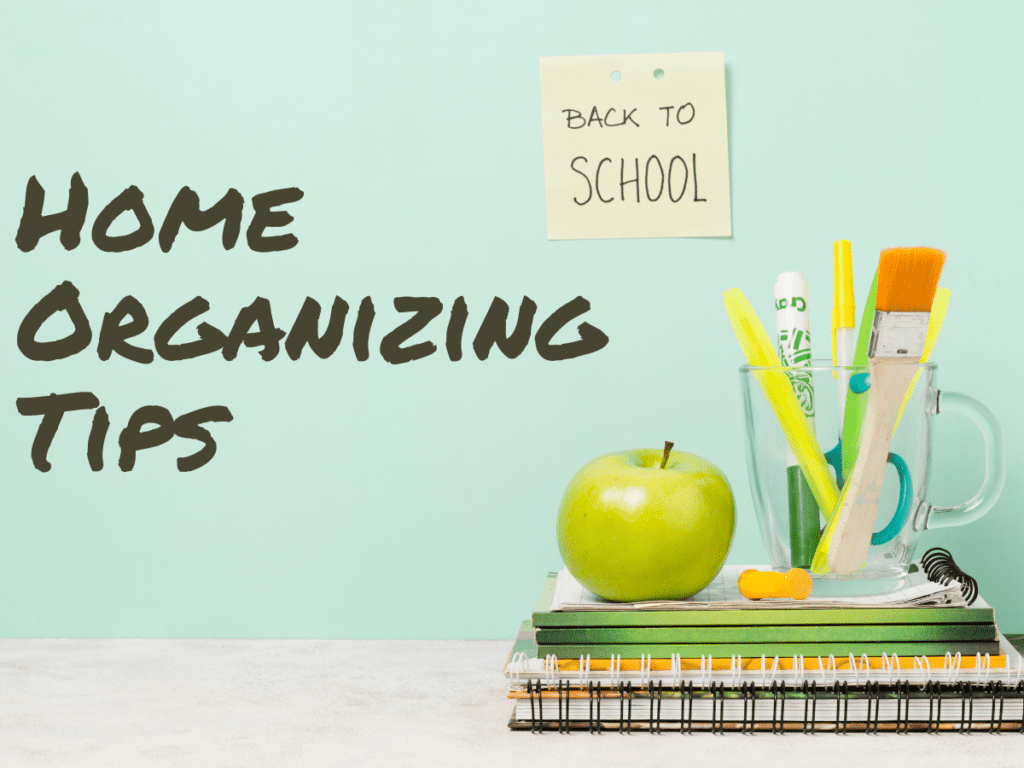 We're slowly saying goodbye to the warmth of summer, and making way for the beauty of fall. September brings more than falling temperatures, it's the beginning of the school year, which is a whirlwind of activity and competing feelings.
By investing some time in setting up efficient structures around the house, you can manage this transition and make it as easy as possible for both you and the kids.
From gathering lunch-making supplies to organizing wardrobes, hanging backpack hooks and more, we'll give you home organization tips to ensure that you set your family up for success in the back-to-school rush and beyond. 
Establish a functional entryway that allows you to store everyone's belongings.
Ensure that every item has a home. By designing an entryway that stops everyone (and everything) before they enter your home too far, you can limit the chaos and clutter right where it starts—at the front door. Establish a location with a bench or seat where people may take off their dirty shoes and other outside clothing, including rain boots, jackets, and umbrellas.
Add lots of hooks so that jackets and backpacks can be hung. Put baskets with names or colour-coded under the bench for the little objects belonging to each family member. It will be easier to leave the house the next morning if everyone gets into the habit of putting all of their belongings in the designated area.
Create a Homework Zone
Establish a homework area with all the materials your children will require, such as notebook paper, glue, and markers for special projects, to reduce struggles with homework. If your child likes to work at the kitchen counter rather than a large desk, think about providing a portable homework cart instead.
Set up a community family calendar
Keeping everyone's schedules organised and coordinated with holidays, birthdays, and extracurricular activities, requires mental gymnastics. You'll be grateful you took the time before the start of school to write down all the crucial events for the upcoming year, whether you use a digital calendar or a large family wall calendar.
Create a snack station
Managing a troop of exhausted and hungry kids doesn't have to be a nightmare, simply set up a snack station in a convenient location where they can serve themselves, while you work to get dinner together.  Simple options like seeds, dried fruit, and whole-grain crackers in a few baskets that are kid-height. Put a special snack basket in the refrigerator as well, filled with healthy options like precut fruits, vegetables, yoghurt, and cheeses.
Meal Prep Meal Prep Meal Prep
Close the meal delivery apps!  We totally understand that when life gets busy it can be hard to stay on track and on budget when it comes to meals, however, you can get ahead of it with planning and prep. You can make a few meals to freeze, prepare vegetables for upcoming recipes, and store them in the fridge in containers, or assemble the ingredients for lunch in one place. It can be quite helpful to simply sit down with a notebook (or your smartphone) and plan out your meals for the upcoming few weeks' worth of dinners.
Keep go-out-the-door necessities close to where you use them.
Have you ever found yourself running back inside 100 times to get a hairbrush, pen, hair clips or some basic thing?! it would be simpler to store these items by the front door instead. Consider your family's morning routine and maintain a drawer close to the door with your own list of necessities (lunch money? a pen for signing permission slips?)
Organize your laundry room/area
Over the course of the week, school clothing, towels, and sports outfits quickly accumulate. Organize your laundry area with baskets for dirty laundry designated as darks, colours, and lights as well as an emergency container for extra-dirty items that require quick attention.
We understand that the demands of a career, family life and home management can be hard which is why we at Executive Cleaning and Home Management specially curated our Home Management Services, in Edmonton, Alberta, which are fully customizable.
We will work with you to set expectations for your home, and assist with scheduling and overseeing different tasks & duties, thus allowing you more time for family and friends.
These services range from closet organizing to lawn care, if the service isn't one we provide, we will select from our list of reputable service providers and supervise the work making sure it is being done well or until it's completed.
Call us at (780) 919-3344 or visit https://echm.ca/residential-cleaning/ to learn more about how we can help you.