The Ultimate Summer Cleaning Checklist & Tips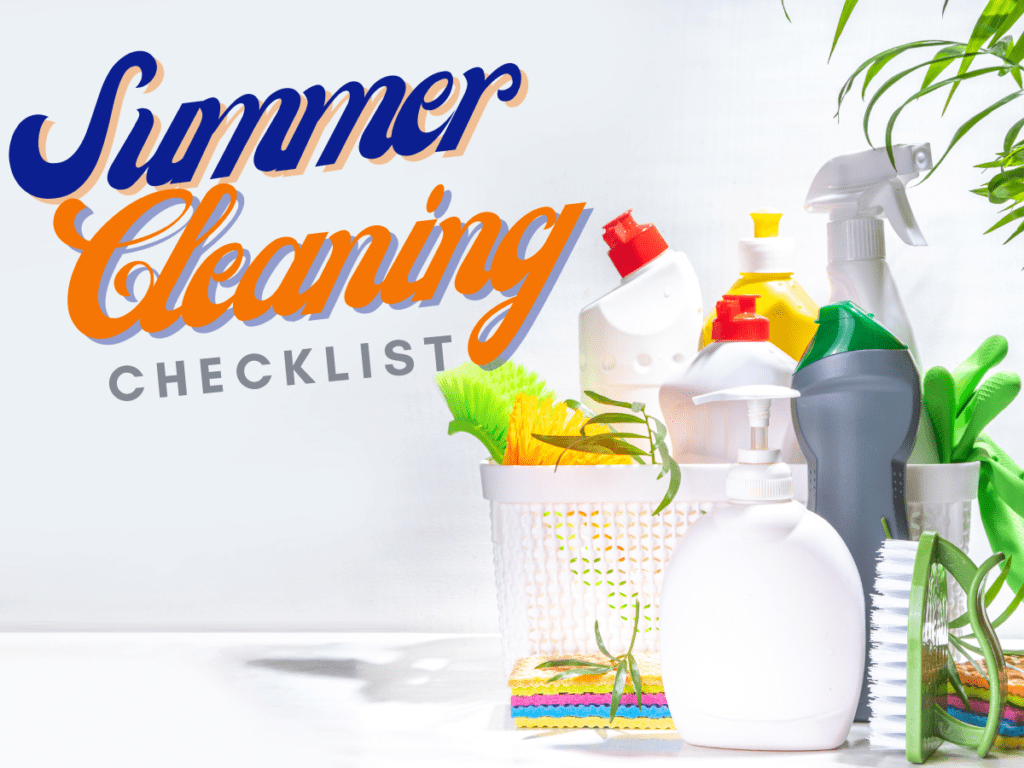 Make the best use of the extra daylight!
It's finally summertime, after the frigid winter we're all just excited to get outside and enjoy this amazing weather! But in the midst of all the summer parties and outdoor activities you can't neglect your household cleaning.
However, you can't let all the extra daylight go to waste!  It's the perfect opportunity to clean key areas in and around your home. Executive Cleaning and Home Management has been in the cleaning business for over twenty (20) years! After years of experience, we've compiled the ultimate summer cleaning checklist for you to follow to keep your home spotless before the season changes.
Summer Cleaning Checklist
Air vents/Air conditioning Filter
As the temperature continues to rise, you're for sure going to use your air conditioner everyday. To ensure the highest quality and easy circulation its the perfect time to clean all air vents around your home.
Tip: You can easily use your vacuum's brush attachment for this task to get rid of dust. For extra dirty vents, unscrew them from the wall or floor, then wash in the sink with hot, soapy water.
2. Fans 
Unless you want your ceiling fans aimlessly swirling dirt and pollen around in your home! Each summer it's critical to clean and reverse your ceiling fan blades. 
Tip: While you're up there cleaning the blades, reverse them so they turn counterclockwise, this way the fan will push cold air, rather than warm air, downward.
3. Windows 
We know this is probably not what you want to hear, but Yes! The summertime is really the best time of year to clean the windows. There are so many other things you'd rather be doing than this but…
The warm temperature, sunny skies and extended hours of daylight allow them to dry quickly, and let's face it, imagine having to do this task when its cold out. See it as a fun activity, turn up your favorite summer playlist and get cleaning!
Tip: Try vacuuming your screens to save time, you can also use a water hose with a sprayer to wash the windows.
4. Refrigerator 
While this task should be done on a regular basis, summer is a great time to deep clean your refrigerator in preparation for all the fresh summer produce. Berries, Watermelon and other fruits are bound to make their way into your home deep clean your refrigerator in advance of these sweet fruits that can make sticky messes.
Tip: Wipe down the trays and drawers with a sponge and soapy water. Any parts that are removable can be scrubbed in the sink.
5. Trash Can 
Bad news! As we're in the kitchen area, the prolonged heat from blazing hot summer weather will make your trash can smell even stinkier than usual.
Tip: You can simply take your empty bin outside and scrub it with detergent and water, then rinse with the garden hose.
Essential oils on a cotton ball can be tossed into your trash can before placing a new liner for long-lasting fresh scent.
6. Grill 
Duh! Summer means grilling season! It's time to pull it out of the garage, more than likely you've not touched your grill since last summer, don't wait for your first summer party/event to give it a thorough cleaning. That first rack of juicy ribs will thank you! 
Tip: Cleaning your grill can be a breeze follow these steps
Set the burners on high (with the lid closed) for about 15 minutes to burn off any food or grease.
Then, use a grill brush to brush the grates clean.
Wipe down the interior and exterior for a shiny finish.
7. Cleaning Food Spills
While we're talking about grilling, summer time foods are messy, ice cream, iced tea, popsicles, burgers, ketchup, barbecue sauce means FOOD SPILLS! Unfortunately this means more cleaning. So stock up on clean microfiber cloths and have them readily available to deal with spills ASAP. The last thing you want is to spend most of your summer cleaning goop off of your counters, worst of all having a trail of ants parading through your kitchen. So be sure to wipe down countertops and dinner tables after meals to avoid those hassles.
Tip: Have kids enjoy lunch and summertime treats like popsicles outside to cut back on indoor food spills.
8. Patio 
We're sure some patio maintenance was on your spring cleaning checklist, but since you're probably going to be spending a considerable amount of time on your patio, summer is another great time to sweep your deck or patio, spray down dusty furniture and get everything in tiptop shape for entertaining guests and quality family time.
Tip: To deep-clean a concrete patio, mix 1/2 cup baking soda and one gallon of water for a gentle cleaning solution. (You can add a few drops of dish soap if you have some stubborn stains.)
9. Bathrooms 
The summer heat has many effects on your home, and your bathroom isn't let out, you need to pay special attention due to the summer heat and humidity. If left unattended the humidity could result in mold growth in the shower, you should clean your shower regularly. While you're at it toilets should be tended to at least twice a week.
Additionally, you'll want to be certain you're running exhaust fans while showering and leaving the bathroom door open after exiting. This can help slow down the spread of mildew.
Tip: A few quick sprays every day after showering helps keep mold, mildew, and soap scum away!
Stock up on microfiber cloths and leave them near the shower so that you can easily wipe down shower doors and walls after each use.
10. Laundry 
Being outside and more active in the summer heat means more Laundry!
Beach towels
Sports uniforms
Swimsuits
Yard Clothes
Play Clothes
Sun Dresses
These are our summer uniforms plus sweat, chlorine, grease and campfire smoke all make for extra smelly clothes! Plus bed linen which must be washed weekly, your laundry will be in full swing for the summer months.
Tip: Clean your laundry area and ensure you're fully stocked on detergent. Dry your clothes outside when you can, and use wool dryer balls to cut drying time in the dryer.
We know that depending on your profession it's difficult to keep up with household tasks and chores, as well as the complexity of specialized, recommended cleaning methods for each area of your home.
This is why Executive Cleaning and Home Management specially curated our Home Management Services, in Edmonton, Alberta, which are fully customizable; We will work with you to set expectations for your home, and assist with scheduling and overseeing different tasks & duties, thus allowing you more time for family and friends.
These services range from closet organizing to lawn care, if the service isn't one we provide, we will select from our list of reputable service providers and supervise the work making sure it is being done well or until it's completed.
Call us at (780) 919-3344 or visit https://echm.ca/residential-cleaning/ to learn more about how we can help you.